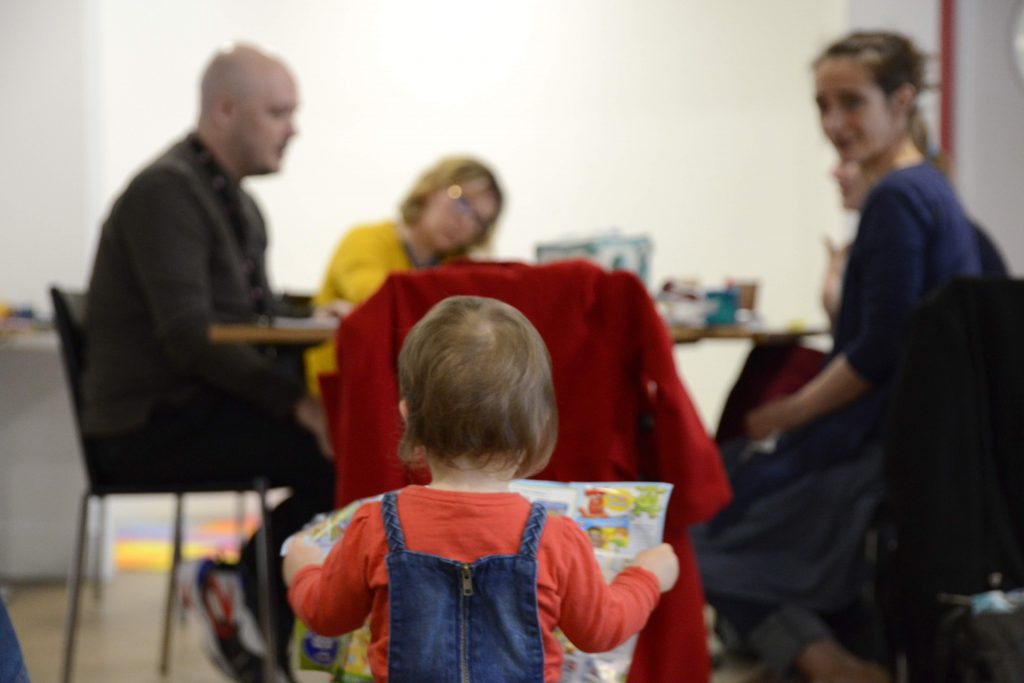 Notnow Collective did not get the ACE Emergency funding.  
We cried. The uncertainty just became an even bigger space.
So now, although we are small, with no real capital or loud voice, we want to make this weird position open and transparent. Take part in the choir of those voices who are not delighted nor relieved.
Firstly, we acknowledge and are very appreciative of the immediate response that the Arts Council England offered. We are grateful for the relief of all the peers who were able to secure the funding, and will be helped to navigate these times safely.
We are humbly sharing this space now with those who profoundly feel the void. 
At the point of theatres' closure we were in the middle of touring our new show Pepper & Honey – a unique project connecting us with those who know our work, but also significantly expanding our work to new audiences up and down the country. 
Our audiences took part in the story about having in common much more than what divides us.  
Following the cancellations, we decided to honour our on-the-road team's fees as much as we could, knowing how heavily they depended on those fees. 
Plenty of our overhead costs simply went down the drain – it will all need paid again when the tour can be remounted. 
Arts Council were great, fully understood our position and reasoning, and agreed we ring-fence the remainder of the grant they'd previously awarded us for Pepper & Honey, to resume the tour when theatres re-open. They recognised how important it is for us to reach live audiences and participants with this live event. We would also like to pride ourselves in being able to give immediate work to our freelance team again, as soon as we are good to go. We all know we'll need it.
Right now, hanging over us are the ongoing expenses we cannot stop, avoid or reduce: they need to be extended for at least 7 months before we can resume our tour. 
To finance these expenses we will either have to pay from our own pockets (as self-employed workers who have no savings and currently, no income) or we will need to cut into the ring-fenced pot, thus reducing the budget for the future tour which will mean we have to reduce the number of performances and/or the participation activity.
Inevitably, the sensation of "not being relevant enough" seeps in.  
Yes, this is not a good or productive place to linger in, but we've arrived here, accompanied by Fear and Worry. This is an exciting place from which to reflect and regroup, once the initial tears have dried – as an arts organisation it is our strength to be change-ready. But also, this global moment exasperates a crisis deeply tied to the bare bones of survival, and unfortunately, independent entities and people are in the first line of fire.
We are a young company, made up of passionate, visionary freelancers with caring responsibilities, with four passionate, hard-core, relentless years behind us. No parent-bank roll, no granny-service. Like many from this industry (and despite business mentors telling us otherwise!), Notnow Collective is made up of many personal sacrifices, and too many long or unpaid hours. This is the reality of many in the independent theatre sector – the passion often drives us forwards. We are not alone.
We were making it work despite the challenges of lacking a support network – as our extended families live far away – juggling work, home, inflexible and expensive childcare, long hours and low incomes. We've set up new homes and found new communities. 
Yet, we were steadily getting somewhere. We were growing.
With audiences and participants at the heart of what we are doing, we are continuously looking at how to challenge the language, the systems and the spaces that are not accessible and flexible enough. 
We wanted to see a wider range of people call themselves active and happy audiences, or artists.
Over the last few weeks we have been connecting with fellow parents and carers working from home, which made us even more aware how much need there is for the work we have been developing. (This is also the cue to honour the magnificent work by Mothers Who Make, PiPA Campaign, In Good Company). Whilst acknowledging everyone's precarious position, we are very aware how particularly compromised is the mental health of those who juggle many plates in the air, but all from the spaces of our own homes – and for some those spaces are VERY confined.
We need to process the grief. Not just for the funding we did not get, but also for all the opportunities that were laying in front of Notnow – our projects and our collaborators: excited audiences, new venues and partnerships, delicious biscuits, people seeing themselves and their stories in our own… Finding new ways to work and present work, celebrating artists who are navigating working alongside caring responsibilities, and seeing people celebrate other cultures and languages on their stages and in their communities.
A great core team complimenting each other with individual strengths and skills.
Most of all, hard work finally started giving some fruit. 
(We trust that our hard work will still pay off in the future, when the tour is able to happen.) 
Today we are acknowledging our Good Work Done so far, alongside the Tears and the Fears.
Tomorrow, we have to move on, one foot in front of the other, however small those steps might be. 
Direction yet unknown. 
Change is the only constant thing. 
Radical things come out of radical times. 
Although we are not sure at the moment in what capacity we will be able to exist, we want to keep connecting with people who find solace in knowing they are not alone – particularly those juggling childcare and work from home at the moment – we will release more info soon on open (Zoom) spaces we will be hosting for those who need them.
We also want to connect with more peers who have not been Emergency Funded, for joint thinking and actioning. It could be a chance to re-think our future(s) together?
Thanks for reading, and sharing this moment with us. If you recognise yourself in any of the above and want to get in touch. Write to us:
or say hello through our social media on Twitter and Facebook.
You are not alone. We are not alone.
P.S. If you felt able to donate any small amount towards our ongoing operational costs of to help see us through this hugely uncertain time, any support is enormously appreciated – we have set up a PayPal Donate link here.